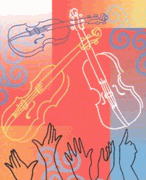 by Pamela Kather
This is a complete course in Beginning Irish Fiddling. If you have never learned Irish Fiddling before , or you need brushing up and some new tunes, Irish Tunes for the Beginning Fiddler is for you.


Pamela Kather has created a practical course that is both fun and easy to work through. She explains everything along the way and gives plenty of opportunities to practice what you have learned. The course structure means that you can work at your own pace, arranging learning to suit your needs.

The course contains:

64 Page Instruction and Song Book
Audio CD


By the end of the course you'll have a basic understanding of Irish Fiddling and a few tunes to play. After completing this volume and the accompanying CD recordings you will be ready to grow with the help of a good human teacher. Understanding and translating Irish music with your fiddle can best be accomplished with the help of a competent fiddle player who can show you how its done.

Please ENJOY yourselves and have a wonderful time fiddling!!